During particularly hot days, nothing beats a tall glass of iced cola. It's sweet, refreshing, and addictive. But even though we love drinking fizzy carbonated drinks, we can't deny that it comes with negative effects on our health.
Drinking soda in excess comes with health risks such as diabetes, obesity, and heart disease. It can also change your metabolism, making it more difficult for you to burn fat and lose weight. And don't even try replacing them with their diet versions. Those are filled with equally harmful artificial flavorings and sweeteners.
If you can't totally give up drinking pop, you don't have to worry about your carbonated drink obsession. You don't have to resort to drinking infused lemon or peach water that has the flavor, but not the kick you need. Thankfully, there are plenty of alternatives to choose from in the market that is just as refreshing as your favorite Coca-Cola, minus the calories, fats, and sugar overkill.
What are the healthiest sodas to drink?
You probably never expected to see the words "healthy" and "soda" in the same sentence, but we're not talking about cola, ginger ale, or any other sugary sweet pop. We're talking about brands that fall under the original and true definition of soda: carbonated water.
So, yes, healthy sodas without caffeine and sugar do exist. They've just been disguised in the form of sparkling waters and seltzers. Here's a round-up of popular healthy sodas available in the market today.
Spindrift
Spindrift is sparkling water made with real squeezed fruit. The drink debuted in artisan shops and eateries around Boston where it intrigued the eyes and taste buds of local foodies and craft beverage fans. Today it's available throughout the US in grocery stores, national retailers, and restaurants alike. Despite its huge commercial success, the recipe has remained the same: sparkling water + real squeezed fruit. Nothing more, nothing less. That's pretty incredible, considering you need both hands to count the ingredients of a Diet Coke.
For a 12-ounce can, the grams of sugar vary from 0 to 3, and the calories from 1 to 17. Lemon, Cucumber, and Lime are among the most guilt-free flavors, while Grapefruit and Blackberry are the highest in calories at 17 and 13 a piece. No matter which flavor you pick, the nutritional value is going to be way higher than a can of Sprite or Dr. Pepper. You'll also get to enjoy a bubbly beverage that's pulpy and delicious.
Buy them online here.
Lacroix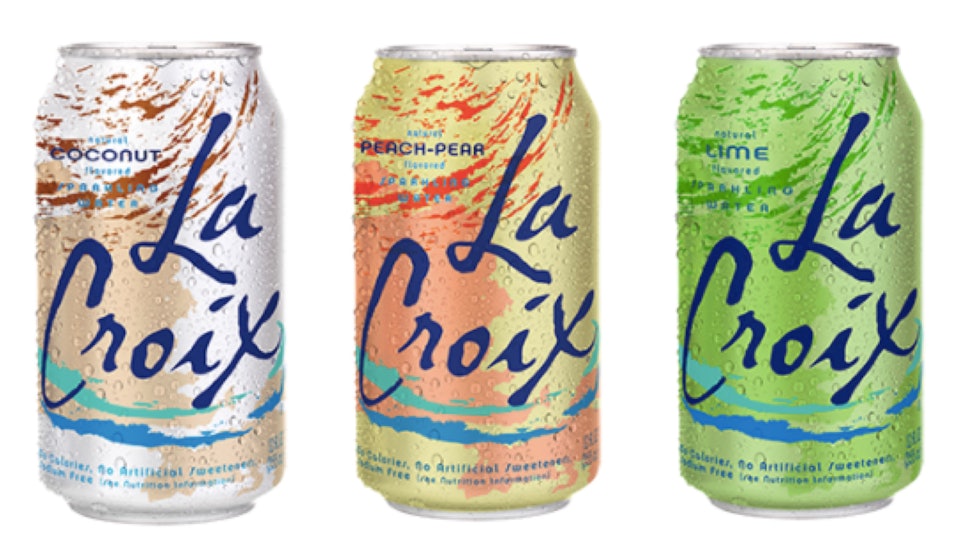 If you were to ask someone on the street, "What's the healthiest soda?" they would probably answer Lacroix. This fan favorite with its extensive flavor options and iconic packaging is killing the sparkling water game. Considered today's "It" beverage, it rose in popularity due to the brand's mix of cutting-edge social marketing and old-fashioned business strategy. It's simply the common methadone for the everyday soda addict.
All 20+ flavors of Lacroix are vegan, gluten-free, and kosher! There is no dairy, wheat, nuts, or meat used in the product. It's also completely free of sugars, sodium, calories, and artificial ingredients.
Buy them online here.
Perrier
This iconic French brand has been stateside since the '70s. Aside from their classic mineral water, Perrier offers a line of fruit-flavored water and trendy mixes that are enough to compete with other popular brands. For instance, their Lemon flavor is thirst-quenching with its tangy lemon twist, making it a refreshing everyday drink. With zero calories and no sugar, it's the ideal alternative to carbonated lemon-lime soft drinks such as Sprite and Fanta.
Buy them online here.
Poland Spring Sparklers
It'll be easier for you to cut the cola with the colorful cans of Poland Spring Sparklers. Not only are they calorie-free drinks with delectable flavors like orange mango, ruby red grapefruit, and pomegranate lemonade (the color actually looks just like pink lemonade), but they make that familiar sound when you crack them open.
But don't be fooled — they don't have the long list of ingredients found in the back of sugary soda cans. They only contain natural spring water, real fruit flavors, and refreshing bubbles. Now, that's good stuff inspired by nature.
Buy them online here.
Bai Bubbles
Say bye-bye to bad bubbles with low-cal and low-sugar selections from Bai Bubbles. They're sweetened with Stevia extract, a natural calorie-free sweetener that's a popular sugar substitute. Their bestselling flavors, Bogotá Blackberry Lime and Lambari Watermelon Lime contain just 1 gram of sugar and 5 calories, giving you that fresh fizzy feeling without the guilt.
Buy them online here.
Vita Coco Sparkling
Coconut water lovers, here's one for you! Vita Coco has upgraded their tasty coconut water with real fruit juice and lots of bubbles. You get the hydrating benefits of coconut water with the crisp and refreshing bubbles of CO2. With flavors like lemon ginger, grapefruit, raspberry lime, and pineapple passionfruit, Vita Coco makes it possible to quench your thirst and reap the benefits of coconut water in one drink.
What's better is that even though Vita Coco's sparkling water is low in sugar and calories, they still taste great! You can use them as a guilt-free mixer for your low-carb cocktails.
Buy them online here.
Zevia Soda
Zevia was founded by parents who wanted healthier sodas for their kids. Known as the first soda brand to use stevia, it combines leaf extract with natural flavors, carbonated water, and citric acid.
But don't let the term "acid" turn you off! Citric acid is a safe and healthy additive naturally found in many fruits. All of these ingredients add up to a yummy zero-calorie soda.
Whether it's hydrating after an intense workout at the gym, jazzin' up your lunch, or chilling by the poolside, the Zevia Sodas are tongue-tingly delicious.
For those who need a bit of a kick, they have four flavors with caffeine (Mountain Zevia: 55 mg/12 oz, Zevia Cola: 45 mg/12 oz, Cherry Cola: 38 mg/12 oz, and Dr. Zevia: 42 mg/12 oz). Their 10 other soda flavors are caffeine-free.
Buy them online here.
Izze
Whoever said juice can't sparkle your senses has never tasted the wonders of Izze. As one of the first players in the better-for-you beverage game, they've stayed ahead of the competition with their 15 flavors of fruit juice and sparkling water.
The delicious drinks are a simple mix that includes 70% fruit juice with a splash of sparkling water. With no sugar or preservatives added, they're the perfect feel-good drink to brighten up your days.
Buy them online here.
DRY Sparkling Soda
DRY Sparkling sodas are lightly sweet and made with a beautiful balance of botanical flavors such as lavender, fuji apple, ginger, watermelon, and blood orange. All varieties contain only four ingredients and about half the sugar content of standard sweet sodas.
DRY sodas are gluten-free, non-GMO Project Verified, OU Kosher certified, caffeine-free, and sodium-free. Each flavor is great on its own, mixed into cocktails, or paired with a meal.
Buy them online here.
Sipp Infusions Organic
Last but not definitely the least on this list is Sipp's line of organic sparkling waters that combine herbs, fruits, and vegetables for a light and refreshing drink. Each can of Sipp Infusions has three multilayered flavors made with USDA-certified organic ingredients. With each Sipp, you have a lighter and healthier way to enjoy sparkling sensations.
Buy them online here.
Benefits of Switching to Sparkling Water
Now that you have plenty of alternatives to choose from, you can look forward to these health benefits when you start trading your Coke cans for bottles of sparkling water/soda.
Keeps you hydrated
Many people think that drinking sparkling or carbonated water will dehydrate you but experts say otherwise. Sparkling water offers the same thirst-quenching benefits as good old water. It's even better if the sparkling water is filtered. Filtered water removes contaminants, organic compounds, and harmful chemicals so you're assured that the beverage you're drinking is clean and healthy.
Aids in Digestion
If you suffer from frequent dyspepsia, indigestion, and stomachache, drinking sparkling water can help tame your tummy troubles. Based on a study published in the European Journal of Gastroenterology and Hepatology, patients who suffered from frequent dyspepsia, constipation, or gallstone formation showed that their overall digestion problems improved after regularly drinking sparkling water for two weeks. So, if you remember your mother giving you ginger ale or lemon-lime soda when you had a stomach bug, she knew it would somehow calm your nausea. However, zero-sugar sparkling water is the best for tummy taming.
Keeps you Feeling Full
Drinking sparkling water before you eat can help you avoid overeating during meals. The tiny carbonation bubbles in sparkling water fill your stomach, tricking your brain into feeling that your stomach's full. This can help you control your weight or even lose some extra pounds.
The moment sparkling water touches your lips instead of the sugary sweet soda you're used to, you'll be entering a new phase in your life. It certainly won't be easy and there will be days you'll pine for the familiar fizz of a newly opened Coke bottle, but trust us when we say you'll eventually stop craving them. By switching to carbonated water, your body will adjust, the cravings will go away, and you can replace all the sugar in your body with nutrients that are actually good for you.